Shipping & Sales Information
Where we ship from
Our offices and production facility is in Vermont. Our product warehouse is located in Burlington, VT.


Domestic
After you place your order, you will receive an e-mail confirmation letting you know your order has been received.

After your order has shipped, you will receive another e-mail with the tracking number. You will be able to use the tracking number to view the status of your shipment from the time it leaves our warehouse until it arrives at your door.
The rates on our website are "real time" using our particular FedEx, UPS and USPS accounts which are linked directly to our warehouse. If you believe you can get a better rate using your own account numbers, please contact us and we can set your customer record so that your orders ship on your FedEx or UPS account.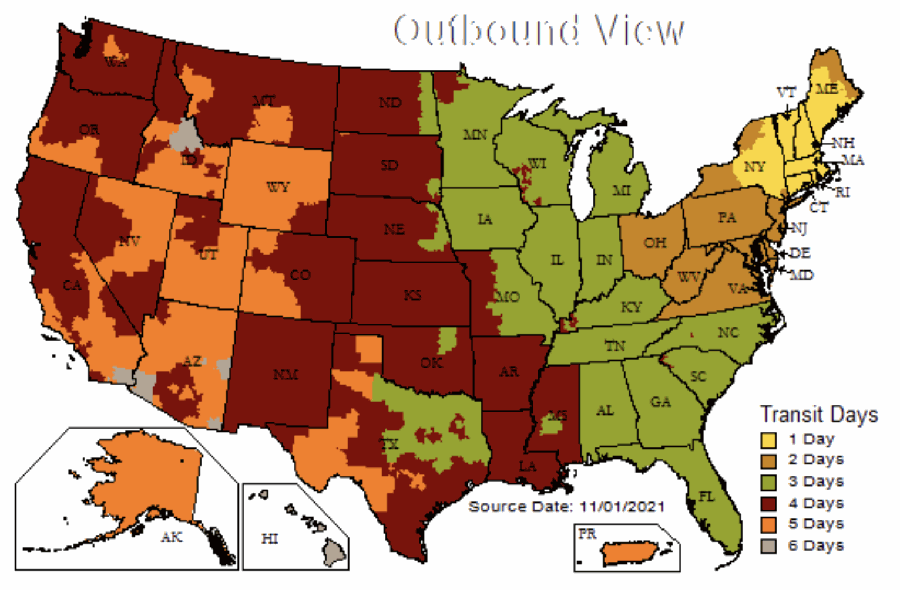 Transit Days are business days only and is for shipping Ground. Actual time to receive your order can be affected by product availability and warehouse processing time. Once your order is fulfilled, if you have provided us with your email address, you will receive a fulfillment message with a tracking link to follow your shipments progress. If you have any questions, please contact us.

USPS should be selected only for non-rush items. Some of our products when sent by USPS Priority will be picked and packed within 1-3 days from order so that we can give precedence to rush or and expedited orders (those usually ship same day).
Black Friday through Cyber Monday Shipping: Due to the extreme volume of orders placed after Thanksgiving, we generally have a longer lead-time to get orders out during these days. Give us an extra few days.
US Rush Orders & Express Shipping (aka, non-USPS services liked UPS and FEDEX).
Orders for in-stock merchandise placed by 11AM EST will ship the same business day, pending credit card authorization and verification, and should arrive within two business day after the ship date if a 2-day or less service is selected at checkout. Express shipping is not available to US Territories, P.O. Boxes, APO/FPO addresses.
International Shipping
We ship to nearly every country in the world, but sometimes are shopping cart "real-time" rates can not figure out foreign addresses. You may receive an error or notification that your address is not suitable. For International orders we recommend selecting USPS for the lowest rates. However, USPS does not provide any tracking once the package is handed off from our postal system to a postal system in another Country. We recommend using UPS or Fedex for tracking. If you have any troubles or would like to discuss costs and options, please call us at +1.802.478.0800
International Sales
In addition to using your credit card, you can make arrangements to shop with us and pay by wire transfer. Instructions for wire transfer are below.
We ship Internationally using UPS, FedEx and USPS. We find that USPS currently has the lowest rates. The rates you see on our website are real time shipping rates directly from these shipping vendors based on our warehouse locations and the zip code you furnish. We do not charge additional fees on top of our FedEx, UPS or USPS shipping rates. We are charging you the costs we pay for shipping.
We also find that in most instances, USPS shipments do not incur import taxes and duties It is more common with UPS that there is a collection of import taxes and duties. However, there is no tracking with the USPS that is comparable to UPS. UPS is more expensive because it is usually quicker and has a significantly superior tracking information system.
All import taxes and duties are your responsibility. We expect you to pay these duties and taxes if they are due at the time of delivery. If any duties and taxes are charged back to InkjetMall, we will charge these fees back to you through your credit card.


Wire Transfer Instructions


ACCOUNT NAME: VT Photo Inkjet
BANK: VSECU
BANK ROUTING #: 211691185
INKJETMALL BANK ACCOUNT NUMBER: 101258865
BANK LOCATION: 1 Bailey Avenue, Montpelier, VT 05601
BANK PHONE: +01-802-371-5162
For EU Customers, if you prefer to purchase in EU you can buy from Taos Photographic which stocks many of our items:
TAOS PHOTOGRAPHIC
M. Patrick Borie-Duclaud & Maï Koyama Borie-Duclaud
37, rue de la Francoy
Cugnaux Haute-Garonne (FR) 31270
France
Tél: +33 (0) 5 61 34 46 71
mail: [email protected]
Web: http://www.taos-photographic.com