Our refillable cartridges for the EPSON P6000-P9000 printers is our exclusive redesign. They also fit older EPSON Pro 7890, 7900, 9890, and 9900 printers. The shell, internals, chip holder, and end plug and receiving hole have all been redesigned. We identified a problem with existing cartridges for the newSureColor printers. The printers have higher pressure pumps than the generation of printers before them. Although a 9900 cartridge will fit into a P9000 printer, the P9000 will over pressurize the former.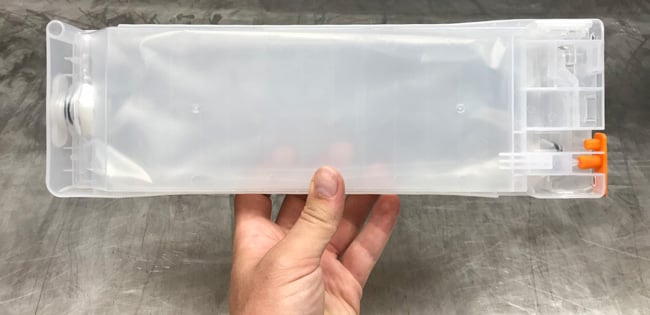 This meant new ink bags had to be designed. A new pouch sealer. The pressurization tubes needed to be made stronger. The fill hole required two seals, and the fill hole plug required two grooves. We also needed a chip holder that would better accommodate chip replacements. These design changes required a brand new cartridge mold and we specified a shape that after joining the pieces together produced the straightest cartridge we've ever produced. The product went through several iterations of adjustment. We had the time to do this, because the chip design was even more difficult.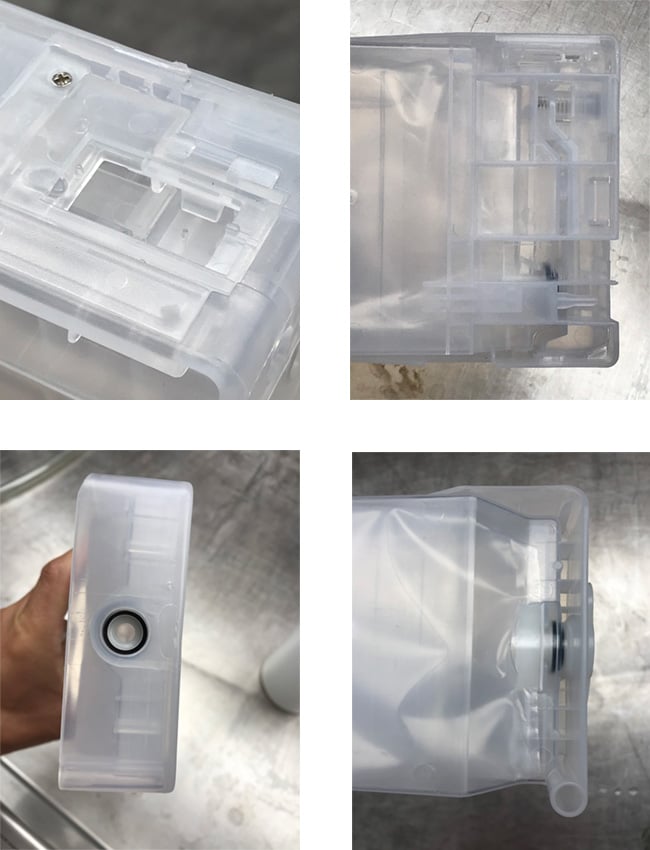 EPSON P6000-P9000 printers sold into the North American region are designed to "work only with EPSON brand inks and cartridges". EPSON did this by including a chip serial number recognition feature in the firmware of these printers. A chip serial number needs to be both bonafide and not previously used in the printer. We had tested the chips offered by all the suppliers currently on the market. We found that all of these promoted damage in one way or another to our test printers. In the worst case, the replacement with a second set of chips shorted our main board and the head control board. This happened with two different suppliers. We had to print through 8 x 700ml ink to prove this to ourselves both times.
We worked closely with our chip supplier to produce a solution that works and is stable. It is something we can support our customers with and sleep easy at night.
Our new cartridge is a universal fit cartridge that will fit into any slot of an EPSON SureColor P6000, P7000, P8000, P9000, Pro 7890, 7900, 9890, or 9900 printer. What changes these carts into a printer / slot specific cartridge is the chip. The cartridge must never be inserted into the printer without first installing a chip. Cartridges purchased for a Pro 7890, 7900, 9890, or 9900 printer can be transposed to an EPSON SureColor P6000, P7000, P8000, or P9000 printer by simply replacing the chip and topping off the cartridge with ink.