Ink and Cartridge Combo Sets for Epson SureColor P600, 60mL or 110mL, All Colors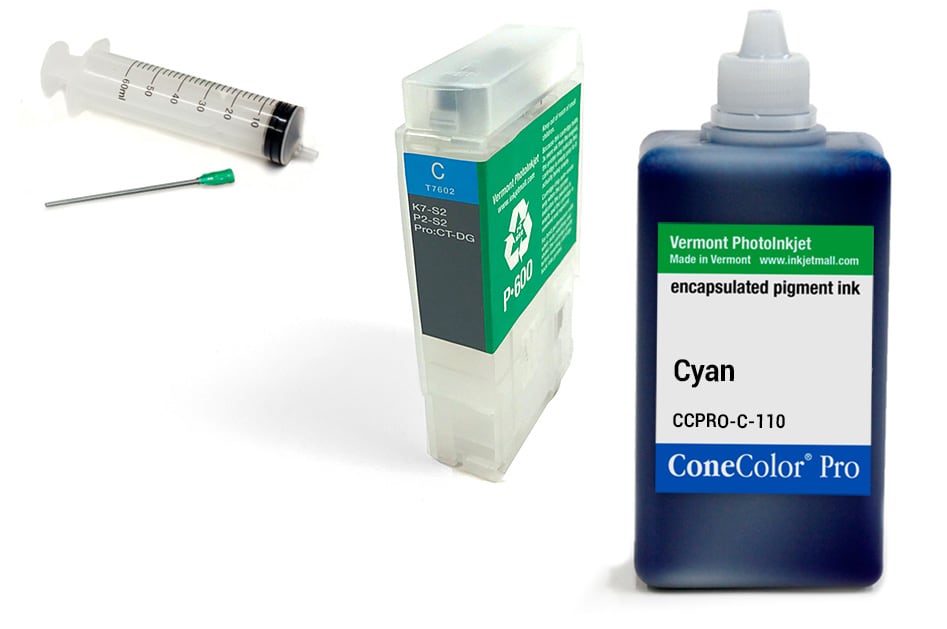 Ink and Cartridge Combo Sets for Epson SureColor P600, 60mL or 110mL, All Colors
---
Oversized cartridge holds twice as much ink as an OEM cart. For the same cost of a single Epson cartridge, you can purchase four times as much ConeColor PRO replacement ink and a refillable (reusable) cart. It's easy to fill the ink from the bottle into the cart with the included syringe. When you run out of ink, you need only purchase another bottle of ink and it becomes even more cost effective when purchased in larger bottles. These carts feature builtin chip resetters. The OEM cartridge is programmed to read empty when as much as 20% of the ink remains in the cartridge for printer safety reasons. With the ConeColor system you can print your entire ink value!
About ConeColor Pro
ConeColor Pro inks are widely considered to be the best performing 3rd party inks on the market today. They are directly comparable to the OEM in both reliability and color. These inks have been sold and updated since 2007 and have a solid reputation built on satisfied user experience.
One of the most important benefits of ConeColor Pro ink is that it is made with a micro-encapsulated pigment particle. It is the only 3rd party ink that has achieved this milestone. Vermont PhotoInkjet joins Epson and HP at this standard of chemistry and formulation. Each ConeColor Pro pigment particle is encapsulated in a micro-thin coatings of acrylic co-polymer that insulates the static charge so that ConeColor pigments can not attract one another, can not clump together, and therefore can not clog your print heads. Encapsulation is quite different from "resin" formulas produced by other 3rd party ink companies. ConeColor is a premium pigment product developed upon the same pigment technology of our world famous Piezography B&W inks.
It is not necessary to flush out Epson inks before installing ConeColor inks. The two ink formulations are compatible with each other. Further, it is possible to change out one color position at a time. You will not need to waste any of the OEM inks in order to transition to ConeColor Pro.
Although most users can simply slip ConeColor Pro into their existing Epson media workflow using Epson ICC profiles, we also support this color ink system with the biggest 3rd party media ICC profile library ever!
Our latest update includes a new High Density Photo Black to match the glossiness and dMax of the new OEM SureColor HD-PK. The second new black we have introduced is the darkest matte black carbon ink offered by any company in the world. The new ConeColor Pro Ultra HD™ is significantly darker than Epson's newest HD Matte Black and has set a new level for dMax. It is backwards compatible. These two blacks are sold as options individually, or marked in sets. We are still selling our original Matte and Photo Blacks for those who are not seeking increased dMax (darkness) in their prints.
By using these two new optional blacks, you can get deeper photo blacks and increased shadow color gamut - and without having to upgrade your perfectly good equipment to the new SureColor printers (which have strong anti-3rd party chip technology in the North American versions of the P800, P6000, P7000, P8000 and P9000.
You can dramatically lower your ink costs and do your part in reducing dependency on toxic manufacturing materials and landfill use. ConeColor Pro inks are sold only for use in ReUsable cartridges which you can refill and reuse many times. There are several sources of estimates on the amount of printer cartridges being discarded into landfill each year. Some sources put that figure at more than 650 million printer cartridges around the world, with 450 million being discarded in the USA alone. The amount is increasing annually. The value of the printer cart market is estimated in the tens of billions of dollars. It is not difficult to estimate the impact on our environment when this amount of material which is purchased, is simply thrown away. The present inkjet consumables market is designed to encourage a tremendous amount of stuff heading out to landfill.
Being green is a universal concept. Every individual can have the choice of leaving a small footprint on this Earth if they are given the correct choice of products, or if they choose the correct products. The most powerful source is the customer, and when the customer begins questioning how their consumables are packaged, that question works its way up stream to effect powerful changes.
This is a preview of the recently viewed products by the user.
Once the user has seen at least one product this snippet will be visible.
Recently viewed Products
What's Included:
Filling and Priming Syringe, 60mL Cartridge with ARC (Auto Reset Chip), and a Bottle of Ink (110mL or 60mL)
Compatibility:
Epson SureColor P600
Attributes:
Color Position or Shade

Cyan

or

Light Cyan

or

Vivid Magenta

or

Vivid Light Magenta

or

Yellow

or

Ultra HD™ Matte Black

or

HD Photo Black

or

Light Black

or

Light Light Black

Bottle Size

110mL(s)

or

60mL(s)

Printer Model

SureColor P600

Printer Brand

Epson

Ink Type

Pigment

Product Type

Cartridge & Bottle

Ink Brand

ConeColor Pro

Brand

ConeColor
There are no alternative products.