How to Use Refillable Cartridges
We offer several types of refillable cartridges. The most important thing we do as your supplier is to participate in the cartridge design at the two cartridge factories that manufacture for us. Finding them was half the battle. We specify the build of our cartridges so that they are always the same each time we purchase them for resale. We request changes to the design to suit our standards and occasionally update our products. Some of our cartridges bear designs that are totally unique to us. The 4900 carts are designed specifically for us. The mould for a 7900/9900 cartridge we once sold, cracked and we have since replaced it with a new design. Interceding at the level that we do allows us flexibility and continuity.
We thoroughly test our products so that we can stand behind them and support you. Our cartridges are the best on the market today. Your experience with other suppliers' cartridges, if they were negative, will not carry over to our cartridges.
The fact is that most cartridges on the market all look alike, yet they do not perform alike. And there is a reason why they all look alike.
The China cartridge industry is complex. The complexities were revealed in court documents submitted by EPSON when they litigated against China Ninestar for patent infringement. EPSON believed that the Federal Court needed education in the inkjet industry and prepared a very long document detailing the ins and outs of Chinese cartridge factories. At the time, I was closely following the outcome of a cartridge patent infringement lawsuit that EPSON was involved in. I had a PACER account to download the daily proceedings. One particular day of downloading was very enlightening.
The document revealed that there are very few actual cartridge factories in China that design and build their own cartridges. It explained that the industry was made up of 100s of smaller operations (some only mom and pop in size) in which moulds for cartridges were leased and used on rented plastic injection moulding equipment at factories that made all kinds of plastic products. Further, the internal components were supplied by many suppliers and the method of assembly differed from one operation to another. In some cases, a company that designed internal cartridge parts did not make moulds for the external parts and visa versa. The final complication was that that there were hundreds of supporting companies acting as "factories" that were actually agents buying and selling products of varying finish and quality. And many of these agents claimed to be factories. It was an impossible labyrinth of invisible doors behind which no factory was present to be responsible for the completion of a cartridge from start to finish!
The end result was that there was a lot of rubbish on the market. There still is. Our experience prior to learning about the cartridge moulding industry was that our suppliers often changed the product without notifying us. It was if they didn't know what they were "manufacturing". We had thought they were the factory because they were posing as such. We often recalled product from our customers. It became a headache for us. The document filed by EPSON opened our eyes to a better way. But, we first had to find the absolute best cartridge factories that had the capability to design and complete their own products.
Three of us left for China as the InkjetMall delegation in search of the elusive factories that designed and built their own products. The making of a mould is very difficult, requires great skill and expense, and there was some likelihood that we could contract the original source to make our cartridges with the changes we required to suit our standards - if we could only locate them. We documented our trip in a blog posting some years back. The trip was arduous and it took us over vast distances.
We made friends and connections who made introductions and within a week we were in direct contact with the best of the best. The introductions paved way to tour modern 3D milling equipment used for prototyping, to see the moulds first hand, and to witness their own injection lines. We saw the use of virgin plastic and of state of the art plastic welding. And we were offered the opportunity to change the designs to suit our standards. So we did!
We also found an introduction to the best semi-conductor company in Asia. They make the chips we use. They make chips for the OEMs. The chips we use are quite unusual in how we specify their functionality. And we know that our complete package is state of the art. We can only support our cartridges. You are welcome to buy other brands and buy our inks – but our support of your printing system if it involves issues that can be attributed to the carts will have to be handled by your cartridge supplier. We really do not adivse the use of lesser brands. From experience we can tell you that cartridges are critical to good printer performance and print quality.
Cartridges are integral to the operation of your printer. They control much of the ink flow dynamics. There are also critical chemistry compatibility issues with some of the cheapest products. The chip governs how the cartridge behaves. Some of the off brands are not compatible with current Epson printer drivers. We can not urge you enough to use our complete package. It is well researched and supported.
Having said that, we offer several types of cartridges depending upon the printer model. You should follow our written instructions for each of our models. They may differ even if you have experience with look-alikes.
We believe that you should fill the cartridge to the full line always and never let it run too low. The chip is not actually connected to the contents of the cartridge. When you first purchase our cartridge, the chip reads 100% full. You do not need to reset it for the first use. You need to fill it to the 100% full level. The chip will then be updated by the EPSON Status Monitor to how much ink has been printed and used in cleaning operations. You should not refill the cartridge prematurely unless you are prepared to reset the chips. On some of our smaller format cartridges we do sell as manual chip resetter. Otherwise the chjps are only programmed to reset when they are first at the empty level. They will not reset because you wish to refill them. If you want to control that – you will need to use the optional chip resetter.
Other cartridges we sell require you to manually reset them by shorting two contact points together.
The only cartridges that require you to supply chips for are the 3800 and 3880. These require an original OEM chip be placed under the control chips. Ours do not require a partially full chip. You can use a chip from a totally empty OEM cart. We sometimes have these chips for sale but we advise you to keep your OEM chips.
How to use cartridges is really how to maintain the ink levels and take care of the fragile chips. We recommend that you keep spare chips on hand and we sell these. Do not wait until one shorts during a critical project. But you can use OEM chips on many of our products and replace these in a pinch. You can not replace the chips on the R2000, R3000, 4900, 7890, 9890, 7900, 9900 nor the control chips on the 3800 and 3880.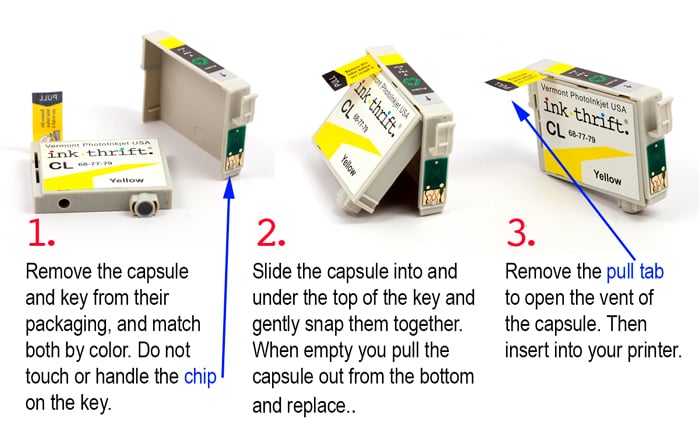 The New EasyFill® Cartridges for Artisan Printers