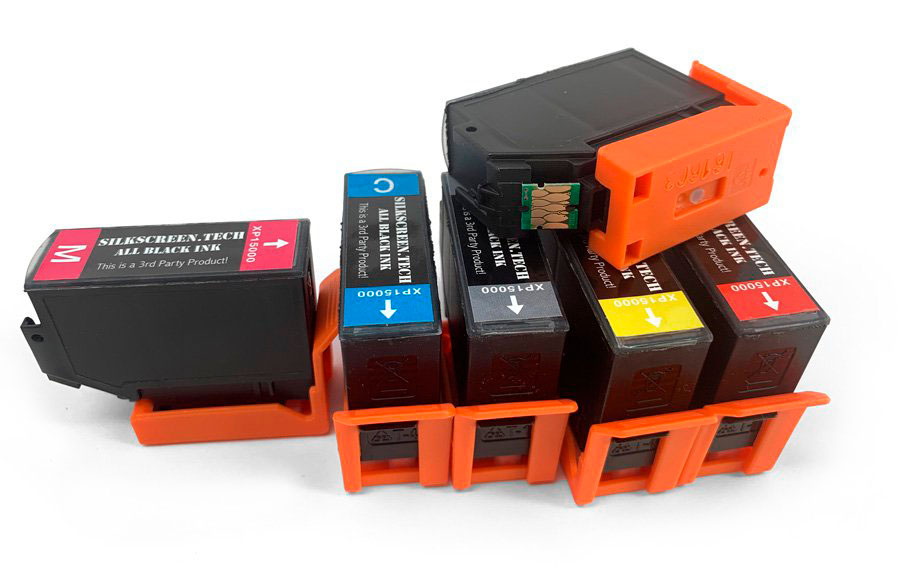 Epson XP-15000 All Black Ink Set for Screenprint Film Positives
SKU: UV45-XP-15000-KIT6
---
This All Black Ink solution for the Epson XP15000 printer provides a UV density of 4.5 or greater with just a few channels of ink. A density that dark is considered to be overkill for all of the sensitizers used in photo silkscreen. But the greater an ink's UV density, the more ink economy when outputting inkjet film! Dial back the ink to just produce enough UV blocking to burn silkscreens properly and save on your ink costs. Reducing ink load can further increase sharpness of dot. 
We have not been this excited since Epson came out with the sub $300 Epson Artisan 1430. We're actually much more excited, because the build of the new HD XP-15000 is much better than the Artisan 1430. It is not actually a replacement for the 1430. It's its own new thang...
This kit features six easily replaceable ink cartridges, but with an improved ink delivery system. Our customers will be able to easily switch between using the Epson inks and our all black inks - making it a one printer does all! The XP-15000 offers 13" wide media size with an improved paper/film transport system that is precise enough to allow for 5760dpi by 2880 printing.

Vermont PhotoInkjet's UV45™ was purposely formulated for screenprint inkjet film positives. Designed for use with Epson printers to fully block UV light during exposure.
UV45 benefits:
Made from proprietary dye blended with micro-encapsulated carbon pigment particles to block more light than when using only black dye.

Blocks the maximum amount of UV light.

Prints sharper and dries quicker than 100% dye inks.

Special polymers added for scratch resistance.

Can be printed at 720dpi, 1440dpi, & 2880dpi.

Greater UV density allows lower ink limits, better ink economy, and still produces enough UV opacity to burn silkscreens properly.

Can exceed 4.5 UV density when used in multiple ink channels, making it one of the most opaque silkscreen film positive inks ever released.

Can produce greater than 1.75 UV density or 3.30 Optical density in single channel strength.

Compatible with both dye-based and pigment-based Epson printers.
This is a preview of the recently viewed products by the user.
Once the user has seen at least one product this snippet will be visible.
Recently viewed Products
What's Included:
Set of 6 pre-filled all black ink tanks with chip ID generating processors. 
Designed ONLY for North American region Epson XP-15000 printers.
Compatibility:
Compatible only with North American region Epson XP-15000 printers. Not certain if your printer purchased in North American is a bonafide Regional printer? Check your serial number at the Epson warranty site.  Sometimes the large online resellers sell gray market Epson printers! Best to check yours is designed for USA and Canada!

Attributes:
| | |
| --- | --- |
| Printer Model | Expression XP-15000 |
| Printer Brand | Epson |
| Ink Type | Dye |
| Product Type | Full Kits (everything) |
| Ink Brand | UV45 |
| Color Position or Shade | Full Set |
| Brand | ScreenPrint.tech |
There are no alternative products.
There are no accessory products.