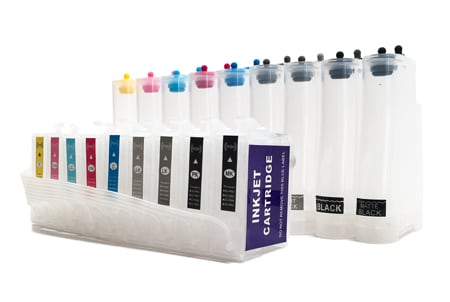 CISS for P600 printer - with priming syringes and funnels
SKU: CISS-P600-KIT1
---
Manufactured exclusively to our specifications with Polypropylene fittings and Polyethylene tubing. The chips on these cartridges can be written to by the P600 firmware. The is a very high quality build Continuous Ink Supply System.
Continuous Ink Supply Systems are easy and economical to run. The Epson SureColor P-600 chip write back system has been made by Epson to work erratically when non-Epson cartridges are installed. While refillable cartridges can prematurely empty in a P-600 printer, a CISS is a perfect solution. You will be able to keep your eye on the level of ink remaining in the individually fillable CISS reservoirs. You will not have to worry about pre-maturely emptying refillable cartridges.
Please read our instructions so you understand how to use the system with ConeColor PRO or Piezography inks. The instructions for use are different - due to the Epson anti-3rd party inks protection that are a component of this new SureColor printer. You need to pay attention to the installation and use. If you do - its an incredible system!
The P600 chip is programmed to automatically reset when the cartridge reads empty in the printer. Upon lifting the ink-cover sensor key and placing it back, the ink level will be reset to full. This style chip can NOT be manually reset. These cartridges should NOT be pulled out of the printer. Just pull the ink-cover sensor key!
Warning 1: On the P600, the auto-reset chips may not show up on the printer as "empty" when they have reset. They may show up as a "cartridge error." Whenever you see an "error" displayed for one of the auto-reset chips simply pull the ink-cover sensor key and place it back.
Warning 2: If your Photo Black ink reading is very very low on the chip and you switch your printer to Matte Black, you won't be able to switch back to Photo Black. When your Photo Black is reading low, keep printing until it switches back to full and then switch to Matte Black!
This is a preview of the recently viewed products by the user.
Once the user has seen at least one product this snippet will be visible.
Recently viewed Products
What's Included:
You get a Continuous Ink Supply System for the Epson SureColor P-600 printer including filling funnels and priming tips. Add your choice of inks!
Compatibility:
This CISS is built to our own specifications using Polyethylene tubing and Polypropylene fittings so that it is truly compatible with the encapsulated pigment chemistry of ConeColor PRO and Piezography inks. Ordinary CISS systems should never be used with these two ink systems. Polyethylene and Polypropylene are the only safe plastics for encapsulated pigment chemistry.
Attributes:
| | |
| --- | --- |
| Printer Model | SureColor P600 |
| Printer Brand | Epson |
| Product Type | Empty Refillable Cartridge(s) |
| Brand | Vermont PhotoInkjet |
There are no accessory products.