Piezography Manual
Inks Installation
Refillable Cartridges
We do not supply pre-filled Piezography cartridges because it is harmful to the environment to use any ink or toner cartridge one time. We supply in ReUsable refillable cartridges that employ resettable semi-conductor chips. The manufacturer uses the chip in a way that suggests that the chip is used to measure the contents of the cart. This is not true.


The EPSON chips can not measure the contents of their cartridge. They read 100% full when first purchased, and then count down the amount of ink being used in startup and shut down procedures, cleaning procedures, nozzle check procedures, alignment procedures, and also printing. The aforementioned procedures are approximately 35% use of the ink in a cartridge where as the printing is about 65% use. Because the chip is being written to by the printer to update it about what it believes the remaining ink quantity is - a margin of error is taken into consideration by EPSON. This amount is approximately 20%. When an EPSON cart is empty, about 20% ink is remaining. At no time, can the chip actually measure the remaining ink levels.


When the 20% safety level is taken into consideration, and 35% of the ink is expressed into the maintenance tanks, only 45% of the ink purchased is available for use. Therefore - the use of one-time-use cartridges is very wasteful. The 20% remaining ink is discarded along with plastic (representing 10% of our total importation of oil in the USA in the form of plastic ink cartridges), and of course the casual discarding of a semi-conductor chip, which is the most toxic form of manufacturing on this planet.


Refillable cartridges are a way for you to not be a part of the environmental problems (650 million thrown away annually). Also, you will be able to save money by not discarding 20% of your ink purchases. The chips on refillable carts can be reset many times. Some users have one set of cartridges for 5-6 years. Unfortunately, the newer Epson printers do not last as long as do the older Epson printers. So all things are relative.


Many refillable cartridges look alike because of the nature of China plastics manufacturing. The majority of China made cartridges are produced by mom and pop operations who lease the moulds from factories and produce the cartridges on leased plastic injection lines that from one day to the next may be used for making anything from frisbees to alligator key chains. Further, the plastic internal parts can come from any number of sources. The plastic itself may be virgin or recycled and of varying qualities and densities. How the final assembly takes place will be different in technique and quality, while the finished products seem to look exactly like the factory originals.
There are very few cartridge factories remaining in China. InkjetMall uses one factory for all of its cartridges since 2010. The cartridges have been modified to our specifications and a build list is maintained. This exclusive relationship benefits the user by producing a quality cartridge that we can support. The benefits for Piezography are that we produce media profiles in which these cartridges are an integral component relating to ink pressure and metering.


Finally, we use the world's best independent semi-conductor company to manufacture the chips. They are more expensive - but they are more reliable. The carts sold by InkjetMall have a low failure rate and do not have many of the odd behaviors of cheaper versions.


We can not recommend enough, that you should use the cartridges provided by InkjetMall for use with Piezography inks. If you choose not to - we will be unable to support certain print quality issues, and (though rare) it may not be possible to produce custom curves to linearize your output (if the cartridge can not maintain consistency).


Having said all of this, the cartridges are the weakest link in a reUsable ink system. Chips can be shorted, cartridges can spring leaks. For most, a set of cartridges will last the lifetime of the printer. For others, unless they strap them selves with a conductive bracelet to a grounding pipe, they seem to short out every chip they come near. Most of the cartridges provided by InkjetMall are not keyed to fit only one position. Most have removable chips. It is possible therefore, to have a few spare cartridges as well as a set of spare chips on hand. Problems only happen near deadlines. Be prepared.
Preparing the First Fill
It is very important that you download and read the instructions for installing inks in your printer model from this website. Simply go to the top "Support" menu and click your printer model under "Piezography Conversions"


Each printer family is independently documented as to shade and color placement. The Piezography inks are filled into color positions rather than in cartridge slots. Cyan is always cyan regardless of the printer model. But, position 2 in one printer model is often a different color than position 2 in a different printer model.

Piezography matches color to shade in the K7 inks as:



Black = Shade 1 (there are matte black and photo black Piezography inks)
Cyan = Shade 2
Lt Cyan = Shade 3
Magenta or Vivid Magenta = Shade 4
Light Magenta or Vivid Light Magenta = Shade 5
Light Black = Shade 6
Yellow = Shade 7
Light Light Black = GO in a glossy system or PiezoFlush in a matte only system.


However, there are also differing ink sets such as the Digital Negative, or Piezography 2, or Piezography PRO which all have slightly different or plainly different color / shade schemes. Please follow the printer specific ink shade placement charts at the end of this section BEFORE filling your cartridges and installing Piezography inks.


You should of course, read the documentation. But, an avid explorer of the medium may have several systems running simultaneously and curves can get confusing. How you can match up inks to the correct curves is to look at the inks layout of a curve in the QTR Curve View Tool in Mac OS X or to right click the curve in QTRgui on Windows.

Let's take a peak at a matte K7 curve: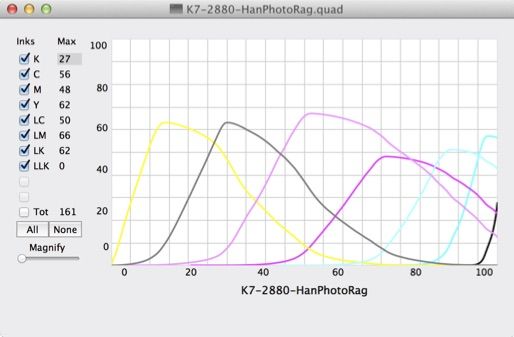 The curves are actually represented by their color positions in the QuadTone RIP Curve View application.

Now looking at a matte Piezography 2 curve: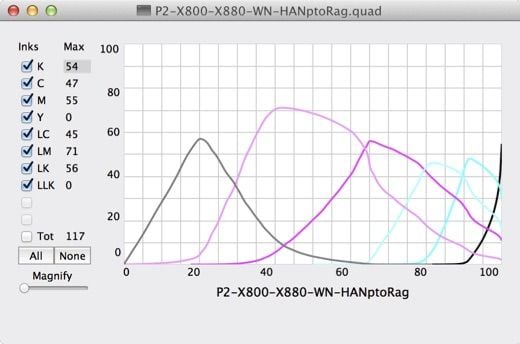 The yellow curve is not represented in this Piezography 2 curve. There is no Shade 7 in Piezography 2. Instead, shade 7 is used for Photo Black. The above curve for Hahnemuhle Photo Rag has matte black in the black position.
Let's look at a glossy Piezography 2 curve next: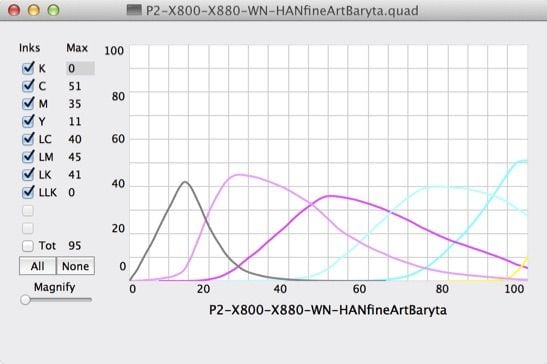 The Piezography 2 curve for Hahnemuhle Fine Art Baryta has photo black in the yellow position curve (far left).


Inks placement, therefore, is critical.


The proper procedure therefore, is to
read the documentation for ink placement
in relation to your product and printer model. Place the cartridges on a table with each correct shade placed adjacent to the correct cartridge. Double and triple check! Mis-filling a cartridge can be serious. Where as you can empty out all of the lighter ink shade from a misfilled cartridge and replace it with the correct darker shade. You can not allow any ink darker than should be to contaminate a lighter shade. We do not think that you should use cartridges that have been misfilled. But, a few drops of a lighter shade into a darker shade will not ruin the Piezography system. A few drops of a darker shade into a lighter shade can.
Cartridges can be filled completely or partially. But, the chip always reads 100% full when it is reset. A new refillable cartridge contains a chip that reads 100% full. So the best practice, is to put 350ml ink into a 350ml cartridge, or 220ml ink into a 220ml cartridge, etc. This is why Piezography inks are packaged in bottle sizes that match cartridge sizes. Your initial fill should be to fill the cartridge completely with the correct contents amount.


The 3800/3880 cartridges hold 70ml, and R2880 cartridges hold 14.5 ml. Naturally, Piezography ink is not packaged in 14.5ml bottles! But, the concept remains to initially fill to 100% full.


Some cartridges are vacuum filled the first time which primes them. Some cartridges are primed manually with a priming tip and syringe. You need to read the instructions for your specific cartridge model.
Priming is an essential part of the first time fill. Priming removes the air that would otherwise form an airlock and prevent the ink from leaving the cartridge and moving towards the print head. In a cartridge that is pressurized, priming removes the air that might otherwise travel through the ink line and injure the print head if it is allowed to print "dry".

Flushing the Printer
For full flush instructions per printer, simply go to the top "Support" menu and click your printer model under "Piezography Conversions"


Flushing is only required in printers that use tanks rather than in printers in which the cartridge is snapped into place directly above the print head.


A desktop printer such as the R2880 has a lid under which the print head rests and ink cartridges are snapped in and out of place when the head moves over.


A PRO printer and also the R3000 use tanks of ink that are remote to the print head and connected by long ink lines which empty into ink dampers that hold a quantity of ink that then feeds directly into the print head.


Desktop printers do not need to be flushed. They need to have their ink stems carefully cleaned so the color pigment ink does not stain the Piezography ink. But, PRO printers and the R3000 should be be flushed as a best practice.


It is not mandatory, but it is a best practice. For some, the investment into a second set of cartridges with PiezoFlush is cost prohibitive, when they could instead flush the printer with Piezography inks. The cost difference in the long run is fractional. The befits of having a set of PiezoFlush cartridges are numerous.
PiezoFlush cartridges can be used many times and are suggested for storing a printer that will not be used for several weeks or longer.


To flush a printer that uses ink tanks, a special procedure must be followed. For desktop printers which use cartridges attached to the print head, only a few head cleanings are required to flush the printer.
It would take between 50-70 head cleanings to flush a PRO printer or an R3000. That would be damaging to the print head because it causes heat. Instead, a special routine is used that parks the print head over the capping station and uses suction to pull the ink out of the head and replace it with PiezoFlush. In modern Epson printers this is called the Initial Ink Charge. For some PRO Models, the routine is accessible from a service menu on the printer's LCD control panel. For others, such as the R3000, the Initial Ink Charge is only accessible in the Windows only Epson Service Adjustment Utility software. This software is apparently readily available from 2maunals.com at a cost of less than $30.00. It has many other useful features.
If the printer has been in active use, the PiezoFlush flushing routine is initiated and then immediately followed by repeating the routine with the Piezography filled carts. The PiezoFlush will have chased out the Epson color inks, replacing it with PiezoFlush solution. The repeat will then chase out the PiezoFlush replacing it with Piezography ink. There should be little remaining color contamination from the pink PiezoFlush.


If you flush out a PRO printer with Piezography ink, the color pigment inks will have not been first chased out by PiezoFlush, and you will likely experience color staining in your Piezography prints (yellow is often the worst, which appears in the highlight areas of your prints). Without using PiezoFlush to purge color inks, you will need to run the Initial Ink Charge twice with Piezography inks. We believe that the slight costs savings of not purchasing PiezoFlush and a second set of cartridges is too little in comparison to having to do a second Ink Charge with Piezography ink. Having a second set of carts for PiezoFlush is also helpful to use as storage and flushing carts when you need to leave the printer for a period of time unused.

Preparing a printer for Piezography that has not been used recently
Risky business! We suggest first, that you do not buy Piezography inks until you prove the printer. To prove the printer, you must first perform a PiezoFlush Initial Ink Charge. We recommend that you allow the PiezoFlush to sit in the printer for 48 hours. Simply shut it off. Then 48 hours later, repeat the process and perform your first nozzle check.


The printer may prove itself after the first nozzle check. If not - you can try regular head cleanings followed by 1-2 hour sitting cycles and repeating until clear. Power Cleans are very effective.


On modern Epson printers that use the Powerful Paired Cleanings - be warned that performing more than 2 or 3 in one day can permanently damage the print head due to excessive heat. The routines that suck PiezoFlush through the print head (initial ink charges) are safer than performing powerful paired cleanings.
If you find that you have restored the print head with the exception of missing nozzles that seem to move from position to position, you should consider replacing the ink dampers. Epson recommends as a best practice, that ink dampers be replaced once a year. Most consumers replace only when necessary. Allowing a printer to sit with pigment ink can promote damper fouling.


Finally, it may be possible that your print head needs replacing. On some models with 8 or more print channels, we may be able to map out the bad ink channel and continue using the printer in some capacity with Piezography.


This section was prepared in some ways from backwards forwards. We assumed that you were first preparing a new printer for use with Piezography, rather than flushing out a working printer, or trying to prepare a printer that may or may not be suitable for Piezography.


Note: The best practice even with a new printer, is to first test it with Epson color inks to insure that the printer you own is fully functional as designed. It is not unusual to purchase a brand new printer from Epson which has been delivered with defects. The same can be said for any product. It is costly to use color inks that you might otherwise sell on eBay. It is costly to use PiezoFlush where you might otherwise start off with Piezography. In general, best practices are not designed to curb costs and cut corners.
Piezography Placement Charts