Piezography K7, Warm Neutral Tone, 700ml, Set of 8 Inks (glossy only)
Piezography K7, Warm Neutral Tone, 700ml, Set of 8 Inks (glossy only)
SKU: PZK7-WN-700-SET8GO
---
Set 8 Glossy is a Piezography ink set for printers with at least 8 color positions where only glossy printing is desired. These printers include the Epson R1800, R1900, R2000, R2400, R2880, Pro 4800, ProPro4880, ProPro7800, Pro 9800, Pro 7880, Pro 9880. The entire ink set is dedicated to glossy printing. It includes the photo black shade 1, and shades 2-6. GO (gloss overprint) is the 8th ink. A matte black ink shade is not included and therefore matte printing is not advised. Any printing on matte paper would have lower dMax because of the absence of a matte compatible shade 1 black.
Piezography2 ink sets are an alternative for 8 ink channel printers in which both matte and glossy printing are possible.
This ink set is PiezoDN compatible.
This set can be used in printers with 9 or 11 ink channels in which only 8 ink channels are operable. In this case additional PiezoFlush should be purchased to keep non-operating print head channels from over-heating and affecting adjacent working channels. We offer a Piezography media profile re-mapping service to map out non-operating channels in printers. This allows you to use a printer with permanently clogged channels, or aquire a potentially free printer that is no longer useful to someone printing color.
Piezography Warm Neutral is the "original Coca Cola" of Piezography. When we first introduced Piezography in 2000, we introduced it with PiezographyBW Warm Neutral ink. Later in 2002, we vastly improved our ink chemistry and introduced PiezoTone Warm Neutral. Piezography Warm Neutral K7 was introduced about 2009.
Soft proof:
Warm Neutral K7on Epson Exhibition Fiber
The best way to describe Warm Neutral is that of a warm photographic gray similar to the bromide or just slightly azo greenish surfaces of yesteryear. Warm Neutral allows the strength of the photograph to come through in a way that is very familiar. Like all Piezography inks it can be made to be warmer or cooler depending upon the paper that it is printed on.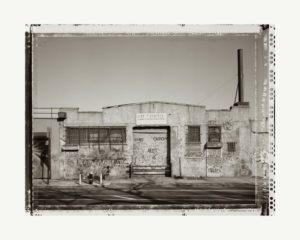 Soft proof:
Warm Neutral K7on JonCone Studio Type 5
For a near perfect Agfa Portriga replicant - use Piezography Warm Neutral Glossy option on JonCone Studio Type 5 paper.

Soft proof:
Warm Neutral K7 on JonCone Studio Type 2
Like all Piezography ink sets, this ink is metamerism-free and has an encapsulated pigment particle that is unique amongst all third-party inks and is considered as non-clogging as the OEM. When printing on matte papers, the Neutral K7 Shade 1 black is used. When printing on non-matte papers (including Baryta papers), the MPS Warm Neutral Shade 1 black is used in conjunction with Piezography Gloss Overprint.
This ink set is designed to be used with the Piezography media profiles and QuadTone RIP. Please see the Instructions tab for a full explanation of its use.
The Warm Neutral ink family includes a newly designed shade 1 photo black. We have called this black "opaque" and it is on film. We have called it "very warm" and it is but not with QuadTone RIP. For those who use StudioPrint RIP on supported printers, they can produce a longer black printer that does reveal the warmth of this ink. We have called it "very dense" and it is in fact so dense that some of our customers are reporting that they use it as both a matte black and a photo black without losing dMax on their matte paper prints.
This ink set can also produce the highest standard digital negatives with the optional PiezoDN software. Using multiple shades of black ink produces tens of thousands of more gray levels than when using color inks to produce digital negatives. You'll benefit by the same higher acuity, smoothness of tone, and shadow and highlight detail that Piezography inks give to printing. With PiezoDN software, you can expand the the dynamic range of your medium in the same way Piezography expands the dynmaic range of fine black & white printmaking.
What's Included:
You get seven bottles of ink. Piezography shade 1 photo black, Warm Neutral shades 2, 3, 4, 5, 6 & 7. One bottle of Piezography Gloss Optimizer
Compatibility:
Piezography K7 and K6 inks are compatible with both matte and glossy (including baryta) papers.
To use with matte papers, the Matte Black shade 1 must be used.
For printing on glossy or baryta papers, the Photo Black shade 1 must be used.
After printing on a glossy or baryta media, a second overprint of Piezography Gloss Overprint is requried according to our instructions in order to equalize all gloss differential, bring out shadow detail, and eliminate bronzing.
Piezography inks are intended for use with Piezography .iquad curves and the QuadTone RIP when used as instructed inthe NEW Piezography Manual which can be found in our Instructions tab.
There are many different configurations of ink available according to printer model and your intended use.
If you are buying an optional HD version of an ink set it may require the purchase of Piezography Professional Edition software in order to make your own custom curves. Where this is not mandatory with the Piezography Pro HD Photo Black, it is mandatory with the Piezography Pro Ultra HD Matte Black.
Please review the detailed description to make certain you are buying a system according to your intentions and needs.
Attributes:
Printer Model

SureColor P400

or

SureColor P600

or

SureColor P800

or

SureColor P6000

or

SureColor P8000

or

SureColor P7000

or

SureColor P9000

or

Stylus Pro 3800

or

Stylus Pro 3880

or

Stylus Pro 4800

or

Stylus Pro 4880

or

Stylus Pro 4900

or

Stylus Pro 7800

or

Stylus Pro 7880

or

Stylus Pro 7890

or

Stylus Pro 7900

or

Stylus Pro 9800

or

Stylus Pro 9880

or

Stylus Pro 9890

or

Stylus Pro 9900

or

Stylus Pro 7700

or

Stylus Pro 9700

or

Stylus Photo R3000

or

Stylus Photo R2880

or

Stylus Photo R2400

or

Stylus Photo R2000

or

Stylus Photo R1900

or

Stylus Photo R800

or

Stylus Photo R1800

Printer Brand

Epson

Bottle Size

700mL(s)

Ink Type

Pigment

Product Type

Bottle Sets (no carts)

Color Position or Shade

Full Set

Ink Brand

Piezography Warm Neutral

Gloss or Matte Compatibility

Glossy Printing Only

Brand

Piezography

Piezography Ink Set Configuration

Piezography K7 Set

PiezoDN Digital Negative Compatibility

PiezoDN Ready
This is a preview of the recently viewed products by the user.
Once the user has seen at least one product this snippet will be visible.
Recently viewed Products