Printout (Malde-Ware) Platinum & Palladium Workshop Syllabus
This workshop is designed to teach platinum-palladium printing with enlarged digital negatives, as both an introductory and advanced-level opportunity to become familiar with one of the most highly nuanced approaches to the process.
Platinum/palladium printing has always been valued for its permanence and its ability to resolve tonal values - 'velvety' is a term often used to describe fine platinum/palladium prints. The method taught in this workshop has recently been recognized by conservators as the most permanent variation of the process. The image appears as it is exposed (print-out) and renders remarkably smooth tones, with the legendary 'creamy' highlights and open shadows. All together, this demands the best possible negative. The Piezography PiezoDN Digital Negative system is among the most finely tuned and highly resolved methods for making enlarged negatives. There are a multitude of formulae for making prints from platinum and/or palladium, and the same is true for digital negative making. This workshop concentrates on a particular approach to each: the print-out platinum/palladium method, invented in the late 19th C and refined by Dr. Mike Ware and Pradip Malde during the 1980s, and the Piezography PiezoDN digital negative method.

The workshop will include:
Demonstrations: Digital to Printer setups; negative printing; platinum-palladium printing

Discussions: History; Technical aspects of the process; Chemistry, safety and preparation; Folio reviews and aligning process to vision

Praxis: Workroom setups; printing; fine-tuning; problem solving
Instructor Bio
Pradip Malde is a photographer and educator who has lived and worked in Tanzania, India, Spain, and Scotland, and currently resides in the United States. His work has been widely published and exhibited across the USA and Europe and is included in various public and private collections, notably the Museum of the Art Institute of Chicago; Houston Museum of Fine Art, Center for Creative Photography, Tucson, Princeton University Museum, Victoria & Albert Museum, London; the Scottish National Portrait Gallery, Edinburgh; and the Museum of Contemporary Photography, Chicago.
Malde's work sits between fine art, documentary, and collaborative modes of photography practice, but throughout has worked extensively with large format and platinum-palladium printing. His long-term professional collaboration with chemist and photographer Mike Ware, which began in 1981, led to the successful re-formulation of an ammonium-based platinum/palladium printing-out process, derivative of the 19th century process published by Austrian photographers Joseph (Giuseppe) Pizzighelli (1849-1912) and Arthur von Hübl (1853-1932) in 1883 titled "La platinotypie."
Pradip Malde was awarded a 2018 Guggenheim fellowship for his work in photography.
This printing process is renowned for its capacity to activate seemingly homogenous areas of tone. Scrutinizing the platinum/palladium print yields more than the appreciation of technique and materials: it brings to light an intimate and palpable sense of "image." It seems the more we do this, the less separation there is between oneself, the print, and the photographic "window." There is a feeling not only of being a part of the world but of being apart from the world, of looking beyond. The more we look at, and consider this kind of photographic print, the more it seems that we are gazing back at ourselves from another's world. I believe that photographic images as prints have to be compelling. The work has to hold attention. Attention, or being compelled to look at an object (the print), amounts to valuing the subject. Developing value requires immersion, both in the production and reading of the work. It is this kind of sustained attention that builds sufficient energy for us to excavate the links between loss and love, for instance, and begin to answer perpetual questions about what it is to be human. ~ Pradip Malde

Day 1: Necessary Knowledge
Morning: 10:00am to 12:30pm | Break for Lunch | Afternoon: 1:30pm to 4:30pm

Introductions

Looking at Prints

The Image as Print

Getting Set Up

Looking at Files

Overview of the Entire Process - Start to Finish

First Selection of Files to Print
On the first day we introduce you to the wonderful world of Platinum Palladium printing. We go through each participants work and also look at a variety of prints to gain an understanding of the breadth and depth of the PtPd methods available.
Part of the day is spend just getting set up in both the digital and darkroom labs, learning how to coat paper, learning how to
---
Day 2: Necessary Practice
I know I can fly! Just a little reminder here and there - but it's time for less talking and more rocking. Today it's time to begin printing with the systems on your own.

Sorry. Still writing this bit.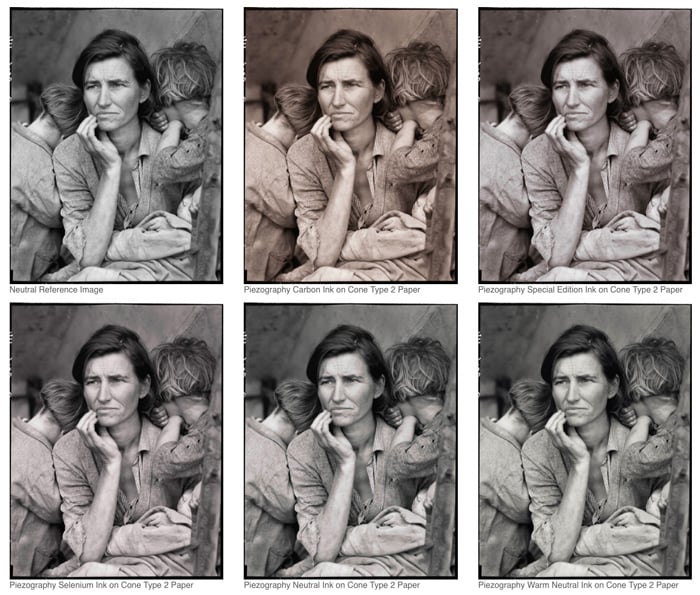 Sorry, still writing this bit.
---
Day 3: Dig a Little Deeper
Now take what you've learned and go forth and make prints!

Sorry, still writing this bit.
Sorry, still writing this bit.
---
Day 4: Workflow & Wrap-up
From Layout to Finish: on this day we finalize a custom tailored workflow for your specific studio needs and art practice. Leave with a "prescription" of items you need to get set up in your home environment.

Sorry, still writing this bit.

Sorry, still writing this bit.

---
LOCATION AND HOURS: The studio is located at 17 Powder Spring Road, Topsham, Vermont 05076. It is registered with Google Maps and you can trust Google directions to our studio. The studio is open to students, and instruction is provided from 10:00 AM - 4:00 PM. Your instructor sets time for demonstrations, lunch, critiques and clean up. On Wednesday we try to have a paella party in the Summer when weather permits. In the Fall we try to do something similar. But, we do keep the studio open later on Wednesdays. We also encourage sharing your work on Wednesday early evening. So plan for staying a bit later on Wednesday to share, eat, or get a bit more printing done!
TRAVEL: Our nearest airport (75 minutes) is Burlington International Airport (BTV) in Burlington, VT. Other airports are Manchester-Boston Regional Airport (MHT) (130 minutes) and Boston-Logan (180 minutes). There are car rentals as well as private taxis and shuttles between the airport in Burlington, VT and East Topsham.
LODGING: The amount of lodging near us is very limited. You must make reservations early if you want to be within walking distance of our studio. There is a small B&B with friendly owners and excellent breakfast and 5 minute walk: http://www.vermontbackintime.info/
FOOD: We provide a tasty and healthy lunch each day according to the questionnaire you are asked to fill out prior to your arrival. Coffee, espresso, and tea are all very important to us and is always available fresh. We have a refrigerator in case you need to bring things you would rather not be without.
For dinner, Vermont is known for its interesting and varied cuisine. Some of our favorites are close and others are not so close.
Computers and Displays: Cone Editions Press does not provide computer workstations. You must arrive with your own laptop computer. We do provide reference calibrator displays. These displays use DVI or HDMI inputs. Please contact us prior to the workshop so that we can advise you of any adapter you may need to connect your laptop to our displays. The use of our calibrated displays are not mandatory - but they will allow you to see what you can print - and you will want one when you return home! These are not your average displays!
Materials: All materials used in the workshop are included within the workshop fees. We offer the following papers: JonCone Studio Type 2 and Type 5, Canson Photographique, Hahnemuhle Photo Rag, Hahnemuhle Museum Etching. Epson Exhibition Fiber. All Piezography ink sets are available during the workshop.
Printers: During the workshop attendees have access to five Epson 3880 printers as well as 7880, 9800, 4900 and 9900 large format printers are present but not available for workshop use. Still we may use these printers from time to time to demonstrate preventative maintenance and installation demos or to answer printer specific questions.
Fees: $1500. A non-refundable reservation payment of $450 is required when you sign up for a workshop on the InkjetMall website. The balance of the workshop must be paid for in full 30 days in advance of the workshop or you lose your reservation payment.
Cancellation Policy: We have both a very generous and a very strict cancellation policy because the workshops are small and your cancelling adversely affects our program. All workshops must be fully paid 30 days in advance. We collect a deposit payment of $450 in advance. Should you decide to cancel your participation in advance of paying your balance and we can replace you with another attendee - we will refund your deposit minus a $100 cancellation fee. If you must cancel within 30 days after paying your full fee & we can replace you with another attendee, we will cheerfully refund 100% your monies minus a $100 cancellation fee. If we can not replace you - you will forfeit 100% of the fees that you have paid. Please be sure before you sign up. If you must cancel - do not wait until the last day. The sooner you alert us - the better chance someone on the waiting list can replace you.
Contact: Cathy Cone is the Workshop Coordinator. Please call (802) 439-5751 #101 or email [email protected]