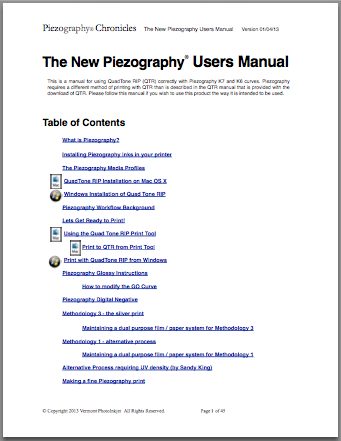 EDIT, September 28, 2016: There is an even newermanual downloadable for free right here.
////
I've published the NEW Piezography Manual online. It takes most of our wisdom to date and instills it into one document for both Mac and PC users.
It covers the new Macintosh Operating System issues and moots them with instructions for using the new QTR Print Tool. It also updates the Digital Negative with instructions for use including how to more easily use Digital Negative with an existing K7 printing system (without wasting much ink!)
Finally, it includes how to edit the GO curve to perfect glossy printing on substrates which could use a little more or a little less. It's certainly worth a read if you are having any issues with Piezography.
If you have installed Piezography correctly, it should ONLY be easy to use, repeatable, and produce the absolute highest standard black & white print of any system from any manufacturer. It greatly exceeds EPSON's ABW that they advertise to exceed your vision, which makes Piezography exceedingly good indeed!