This photo narrative is about Cone Editions Press' Direct-to-Plate Photopolymer-Photogravure process. It is both a re-invention of solar plate intaglio and a re-invention of aquatint photogravure. If you're interested in having Cone Editions produce photopolymer photogravure plates for you - click here. If you want to buy unexposed solar plates from InkjetMall - click here. Otherwise, we hope you enjoy the following read...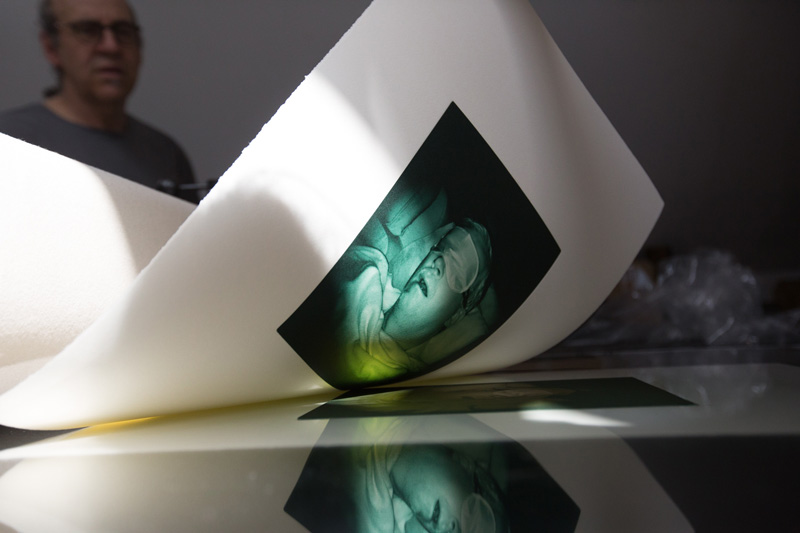 Pieter Hugo photogravuew being pulled at Cone Editions Press

Pulling of a photogravure print by Pieter Hugo at Cone Editions Press in East Topsham, Vermont.
A little background.... Photogravure is a traditional photo-intaglio process that was invented by William Henry Fox Talbot in 1850. 
Talbot found that gelatin sensitized with potassium dichromate would harden when exposed to light. This gelatin affixed to copper allowed him to expose a film positive and etch the copper plate, eventually printing the image with intaglio (etching) ink. He found that he had to break up the image into "dots" in order to roughen the copper so that it would leave something for the ink to cling to when the plate was bitten with acid. Talbot eventually discovered that powdered resin could be melted onto the copper plate to act as the "dot" .
This technique of using powdered resin is known as aquatint when applied to intaglio. His photogravure process could render fine detail and tone. Later, his process would be better refined by Karl Klíč who used dichromate sensitized carbon tissue which transferred the image to the copper allowing for better control of deeper tones.
Fox Talbot - Branch of a Fern, circa 1860. Aquatint Photogravure
During the 1980s, when Cone Editions was located in Port Chester, NY it specialized in the Talbot-Klíč dust grain photogravure process. In terms of lineage; Jon Cone learned the process from Eric Great-Rex who learned the process from Jon Goodman. Cone Editions collaborated with artists who were working and exhibiting in New York City. Cone Editions was a multi-discipline atelier offering copper-plate photogravure, intaglio, screenprint, woodcut, monoprint and computer printmaking (beginning 1984).
Many of the aquatint copper plate photogravures printed at Cone Editions were made from the artists' hand painted and drawn film positives. This was something quite novel during that time. The studio collaborated mostly with painters and sculptors in the 1980s and often these photogravures formed the beginning of further intaglio techniques such as in the work with Lester Johnson and David Humphrey.
David Humphrey, Lies, 1987. On the left is a computer generated aquatint gravure. On the right combines aquatint photogravure with an additional spit bite plate in red ink.
Collaborating with Carol Seborovski, the studio produced a suite of aquatint copper plate photogravures using her charcoal and graphite drawn tissue paper in place of film. Two of the five prints are in the MOMA permanent collection and can be requested for viewing at the Dept. of Prints and Drawing: Two 'T' Shapes, 1986 and Cast Shadows, 1986. The entire suite of five is a remarkable example of the sensitivity of the aquatint photogravure process. The plates were made with much difficulty by Jon Cone and Eric Great-Rex. The drawn tissue used in place of film presented a density range that was beyond the conventional specifications of the sensitized carbon tissue used in the process. It was not unusual for them to re-make the plate 4 or 5 times in order to realize the nuances of the drawn tissue. Traditional gravure editions would take months to print by hand after spending months proofing with the artist.
Carol Seborovski - Two 'T' Shapes and Cast shadows, 1986. Aquatint Photogravure. Printed at Cone Editions.
You can view these two prints online in large size here and here. If you zoom in you can see the aquatint used to form the image. It is rendering the fold marks in the tissue, the tissue itself, and the charcoal and graphite drawing on the tissue.
Today, most copperplate photogravures are produced using an exposure screen (fine half-tone or mezzotint) that produces the dot that permits the acid to bite progressively rougher tones into the copper plate according to how dark the overlaying positive film is. Melting powdered resin (aquatint) onto the copper plate in place of using an exposing screen produces a less mechanical look because the powered resin falls onto the plate in a random manner. But, aquatint photogravure is exceedingly expensive and time-consuming to make. Two well known photographers associated with contemporary copper plate photogravure are Sally Mann and Chuck Close.
Chuck Close, Self Portrait, 2005. Photogravure. Printed at Graphic Studio.
The toxicity of the traditional materials and the Cone Editions' subsequent move from New York City to Vermont in 1989 made it an impractical process for "country plumbing" and Cone Editions discontinued offering it in 1992. Cone had been pioneering digital printmaking in the early 1980s and was transitioning away from traditional printmaking. In 1992, Cone Editions introduced inkjet transfer printing and digital monoprint using the etching press. The etching presses was finally put into storage about 1998 where it remained until January of 2018.
Moving fast forward... In January 2018, Cone Editions began to develop a process of photogravure using non-toxic photopolymer plates instead of the dichromate sensitized carbon tissue and copper. Other studios have been using photopolymer plates and exposing screens for years. Cone Editions set out to design software that would permit it to produce a calibrated direct-to-plate printing method that replicated the look of melted aquatint dust. Direct-to-plate means using an inkjet printer to print a positive image directly onto the unexposed photopolymer plate.
Direct-to-plate photogravure was not new in 2018. But, those practicing it were dependent upon using the Epson printer driver which has a very ordered dither. Still, the works being produced in that manner were comparable in many ways to copper plate photogravure made with fine exposing screens. What Cone Editions intended to do was take it further and emulate the Talbot-Klíč dust grain photogravure process in order to produce a higher fidelity reminiscent of their 1980s process. In order to do this, the studio needed to develop their own printer driver and they might as well (in their thinking) develop a calibration system so that the photogravures matched an image on their or their customer's computer display. The studio already produces the highest fidelity digital negative system PiezoDN which they market through InkjetMall.
The benefits of printing the "positive" directly to plate instead of using a film positive or/and an exposing screen are numerous. Firstly, extremely tiny dots of ink can be printed directly on the plate rendering much higher acuity than when using film. This acuity is further heightened because there is absolutely no light diffusion from exposing through film or and through glass (as vacuum is not needed). The pin point accuracy permits dots to be etched that are much finer than any available exposing screen. Cone Editions' proprietary printer driver varies the dot size in a pseudo random pattern and achieves an effect that looks like aquatint dust and is both controllable and repeatable.
Early trialing process to determine the limitations of inkjet density, dot size,  and dMax.
This test is determining how much "digital aquatint" is too much or too little to produce a deep black.
The Cone software is in two parts. A proprietary printer driver has been produced that far exceeds the capability of the Epson printer driver. For example, where Epson limits its printer driver to 2880dpi the Cone Editions printer driver can produce 5760dpi. A non-standard dithering algorithm is employed that imitates the irregularity of fine aquatint when the print head sprays inkjet dots. The driver is channel independent which means the studio has control over what each "color" position of an inkjet printer is loaded with and how it reacts to data input.
Walker Blackwell codes the studio's software for calibrating direct-to-plate photogravure.
The second part of the software is a calibration system that creates inkjet independent channel ink descriptor settings that will produce a match to a display image according to any combination of printmaking paper and any mixture of conventional pigment etching ink. These channel descriptor settings are produced in 16 bit per each ink channel. Epson printers can have up to 10 channels per printer. These descriptor files function a bit like a combination of printer settings, lookup tables, and "profiles". Their function is to linearize the positive image that is printed to the photopolymer plate so that when the developed plate is inked by hand and printed on the etching press, the end result matches the computer display and renders 256 separated values of gray from dMin to dMax. The complex dithering patterns have an effect on calibration, but are controlled in the printer driver.
Beta 1.0 was already separating 256 gray values. The next step was working with unordered dithering patterns to replicate the effect of aquatint.
512 gray patches intaglio printed are read into the studios proprietary profiling software to produce ink descriptor files and an ICC to match the display.
The printer chosen in January for this project was an Epson Pro 9900. In May, the studio switched to an Epson SureColor P6000 large format printer. Although the SureColor is locked in North America against the use of non-Epson ink cartridges, one of the world's leading semi-conductor companies produced prototype chipped cartridges for this project that permit Cone Editions to install a set of special inks into refillable cartridges. P6000-P9000 cartridges and chips are scheduled to be sold at InkjetMall in October. However, the new photogravure process will remain as an online platemaking and printing service until the studio decides whether to license it to others.
An image is printed in UV Opaque inks that act as both the film positive and the "aquatint".
The plate is ejected without any evidence of roller marks. Three inks are used to print different sized dots.
The inkjet inks used to print the positive onto the photopolymer plate have been formulated by Cone Editions' sister company, Vermont PhotoInkjet to be especially absorbative of UV light. The three gradated shades produce dots of varying size and density. One of these inks is pure carbon pigment and is already being sold at InkjetMall. It is perfect for direct-to-plate printing using the Epson driver. It is called UltraHD matte black and is the world's darkest matte black ink.
The plate gets inspected for any printing anomalies. The final photogravure print is a direct reflection of the quality of the inkjet printing of the plate.
After the positive image is printed to plate, a brief drying period is necessary before exposure. There is an optimum exposure for these plates that needs to be calibrated in order to allow both the smallest and the largest dots to etch in a very precise manner. The etching is achieved with simple water near room temperature. The polymer that is washed away contains only trace amounts of non-toxic material making it safe for "country plumbing". The rest of the process can be seen in the following photographs. It is remarkably similar to copper plate photogravure once the plate is ready to be printed on the intaglio press.
The studio converted its UV vacuum machine to expose when the cover is in the "wrong position" and rare earth magnets hold the photopolymer plates securely.
The vacuum top is flipped wrong side down so that the plate can be exposed without subjecting the operator to UV.
The steel backed Jet 73 plate gets a brief exposure to 3000 watts of doped UV light.
Some more background...  In 2011, Don Messec (the inventor of direct-to-plate) invited Jon Cone to put his spin on the process. Cone blogged about his visit to Santa Fe to see the process. Don Messec is the founder of Making Art Safely and one of the first and most influential protagonists of non-toxic printmaking. 20 years had passed since Cone gave up toxic printmaking and although intrigued by the idea, Cone did not see himself heading backwards to an etching press and direct to plate went to the back burner - even as Cone joined the teaching staff at Don's Making Art Safely workshops.
Then in 2017, Cone learned that his printmaking mentor, Mary Manusos, was retiring from the Ohio University Printmaking Department. Jon and Cathy Cone attended Mary's retirement party and Jon had the occasion to honor Mary with a short slide presentation and talk. The Cones met at the School of Art and returning to their roots was very inspiring. The decision to throw all of Cone Editions Press resources at direct-to-plate was made during that nostalgic visit with the idea of creating a process that Mary could do in her own studio in San Diego. Romantic nostalgia can be a powerful agent in creativity.
European direct-to-plate printmaker Stig Stasig was incredibly generous with his experience with photopolymer plates. There are at least five major producers of photopolymer plates and each has its own limitations and qualities which needed to be programmed and formulated for. Cone Editions settled on the Jet 73 plate. And InkjetMall is now selling these unprocessed plates to printmakers in the USA who practice solar etching and photopolymer intaglio. Workshops are planned in 2019 at Cone Editions for these mediums using digital images and calibration techniques.
The plate is developed in plain water at a precisely controlled temperature of 70 degrees Fahrenheit +/- 0.5. A digital thermometer is used to confirm the temperature.
The plate is briefly soaked to dissolve the ink layer and then gently brushed to remove the unexposed photopolymer.
The last part of development takes place in running water to prevent damage or any scratching as the photopolymer softens.
The plate is quickly blotted only with virgin newsprint paper so that any excess polymer is not re-deposited onto the plate.
The plate is quickly air dried for a few minutes.
Then the plate is hardened at 150 degrees for 30 minutes after which it will get a final UV hardening in the exposure unit for about 4 times the initial exposure time.
The plates can be trimmed directly to the image size or allow non printing margins for an embossed plate mark around the image.
Trimming takes place with a heavy duty paper trimmer.
This is an example of a large plate margin. This image by Jon Cone was one of the first trials of the initial alpha system - yet it shows much "progress".
The intaglio printing process requires damp paper.
The paper can not be too damp to print. It is first "calendared" in the etching press to remove the excess water.
The paper will be calendared and stored in a plastic bag while it awaits being used to print the gravure plate.
Any color of pigment etching ink can be mixed, transparentized, enhanced. Cone Editions Press uses water and oil based inks by Akua, Charbonell and Gamblin.
Jon Cone applies the ink with plastic wipes that do not scratch the plate, prolong the life of the "wiping tarlatan", and provide better efficiency in time and ink waste.
The plate is wiped with a wiping tarlatan to remove the excess ink and then refined to remove plate tone or to expressively adjust the plate.
Final wiping is done with tissue. The Jet 73 photopolymer plates are considerably easier to wipe than copper.
The wiped plate's edges are cleaned, excess ink removed from the back, and the plate is carefully registered to the etching bed.
Jon uses a plastic card to help seat the plate in the exact position and to avoid touching the edges of the plate with his fingers.
There is only one chance for the paper to be laid in the correct position. A guide placed under the bed's plexiglass bed protector is used to register the plate.
The pressure required for gravure printing is significantly more than when calendaring the sheet. Walker is cranking it down evenly on both sides.
The press bed is passed through the rollers. A felt sizing catcher, cushion blanket, and pusher blanket separate the paper from the metal roller.
Clean fingers make for clean prints. Jon uses plastic coated playing cards to protect the paper.
The very satisfying "pulling" of the print.
...and of course the inspection of the efforts.
The plate is removed and the press bed cleaned. The Jet 73 plates are sturdy enough to make 20,000 impressions though a typical edition size is usually less than 50.
When Cone Editions was producing copper plate photogravures, the copper was so soft that it needed to be steel-faced in a very toxic process so that more than 5 impressions could be pulled. Photopolymer gravure plates can produce up to 20,000 impressions. But, they are so inexpensive for Cone Editions Press to produce that there is little fear from accidentally scratching the plate. The Cone Editions process is so repeatable that if a plate is destroyed its replacement is an exact copy.
The first project with this new process was a collaboration between Jon Cone, Cathy Cone and Mary Manusos in February, 2018. The software and printer driver were both at beta 1.0. Mary flew to Vermont with a suitcase of found things and in the same way she taught Jon to approach his work - they set out to make something they had no idea of where it would take them or what it might be. Cathy, Jon and Mary worked late into the nights during that week producing 8 large scale plates and numerous other types of prints in both color and Piezography.
Cathy Cone with Mary Manusos contemplating where and with what to start the project.
Mary Manusos hanging the first proofs from the 20" x 24" plates.
In March, 2018 Cone Editions invited Jill Enfield to come and make prints with their new process. Jill demonstrated some of her favorite alternative-processes so that they could be linearized for Piezography PiezoDN digital negative software. Cone Editions demonstrated their new aquatint photopolymer gravure process so that Jill could see her work in "real ink".
'Cat' Cone, Jon Cone, and Jill Enfield.
The Cone direct-to-plate photogravure process then in Beta 2.0 was already rendering a fine "aquatint". Scanning one of Jill's glass plate negatives was appropriate.
Finally, the time had come to invite Don Messec to come to Cone Editions Press to try their version of direct-to-plate. Although Mary Manusos was the catalyst, Don was the instigator that lit the fire. Jon Cone and Walker Blackwell were chomping at the bits to find out what Don's impression was of their system. And they were eager to continue development of the printer driver and the calibration software under his discerning eye if need be.
Don and Walker can tell from the printed plate that it was going to be a "keeper".
It was the plate that took everyone's breath away! A photogravure with the shadow and highlight detail that Piezography is known for.
Jon and Don have been friends since their first meeting. Jon sent Don off with a gift of software and driver.
The first commercial project produced at Cone Editions with this new method is a suite of 47 photogravure etchings by the photographer Pieter Hugo. A copperplate based project like this would have taken about 2 years and cost 4 or 5 times what the studio produced in 4 months time. It is highly unlikely that a seasoned practitioner of the copperplate aquatint method could easily tell the two systems apart other than with the shallower plate impression that is left in the paper by the new process. But, the plate impression is definitely there.
Cone Editions Press is offering direct-to-plate services directly online. If you have your own etching press, plates can be produced that are ready to ink for as low as $55. If you do not have your own etching press the studio can produce prints from these plates for additional charges. In 2019, Cone Editions will be teaching direct-to-plate photogravure workshops using the Epson driver although attendees can decide to have plates made using the Cone driver while at the workshops. You can also come to Cone Editions Press and work by the day in collaboration.
Artists and photographers coming to Cone Editions to collaborate with the studio have a huge menu from which to select, mix and match. There is now a separate darkroom and etching studio on the property to compliment the inkjet studios. A digital image can find itself as a Piezography print, a color inkjet print, a platinum/palladium print using potassium or ammonium based systems, as a relief print, or as a photogravure. The 20"x24" Hell drum scanner can be used for scanning photographic originals or artists drawings and acetates.
Since 1980, Cone Editions Press has progressed from being an experimental printmaking atelier to pioneering the first digital printmaking in 1984 to becoming a development partner of Iris Graphics to supplying solutions to tens of thousands of Epson photo and fine art printmakers. Now within just the last three years, Cone Editions has turned it back around to their roots - diving back in head first into historical processes.
Digital to Cone has a different meaning than to most printmakers. He has built the only digital atelier that can formulate their own inkjet ink and can write their own software code. Doing that since the 1980s has made digital something more familiar and less of a barrier to autographic creativity.
Order pre-processed direct-to-plate aquatint photogravure plates from the online services at Cone Editions Press by clicking here.