Piezography Pro Cool and Warm Ink Sets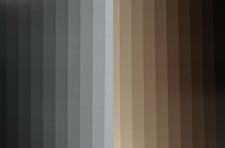 We created two new Piezography Pro ink sets that you install into one printer. One set is cool toned and the other is warm toned. Each is available as a quad or quint set depending upon your printer model. They are designed to be blended together in our proprietary process so that at least 7 different inks are interacting and printing producing tens of thousands of gray levels. The two ink sets share a Ultra High Density Matte Black, a High-Density Photo Black, and a new type of Gloss Chroma Optimizer.
Welcome to the control center for Piezography Pro inks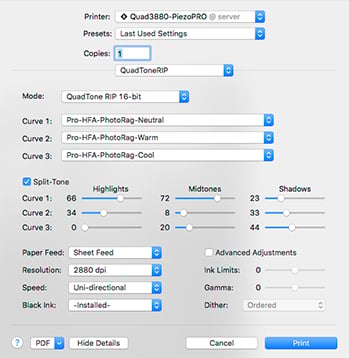 This is where you endlessly blend or split-tone the cool and warm ink sets together with precision control in the shadows, mid-tones, and highlights. You have one million possible combinations that you can adjust using two or three sets of sliders. Finding your own expression is probably going to be very unique to you.
On the left is the QuadTone RIP interface for using Piezography Pro ink sets. Split-Tone is checked so that the sliders operate independently in shadows, midtones, and highlights. In this example, there are neutral, warm, and cool curves for Hahnemuhle Photo Rag paper.
The neutral curve gives you a starting point for creating neutral from the two ink sets. You can use it on its own and produce a neutral on a supported media paper, or combine it with the cool / warm curves to produce what you see or what you measure as neutral. Using the neutral curve along with the cool / warm curves makes the system subtle. Using only the cool / warm curves to do stronger split-toning. Uncheck the Split-Tone option to blend the inks evenly across the entire tonal range.
We're setting the bar higher (again)
We innovated a new type of ink glossiness that is unprecedented in the industry without giving up our superior matte paper printing.
With one-pass printing, your gloss will have absolutely no bronzing nor gloss differential. A gloss print now takes no longer than when making a matte print.  
We innovated a blacker carbon photo black.
You'll print blacker gloss blacks than you can with any other OEM or 3rd party system.
We innovated a blacker carbon matte black.
You'll print blacker matte blacks than you can with any other OEM or 3rd party system.
We innovated a new 'curves' architecture to be used in combination with the QuadTone RIP printer driver from Roy Harrington. Piezography Pro prints can stand side-by-side with a traditional Piezography K7 prints.
We packaged the Piezography profiling algorithms into an optional software called Piezography Professional Edition that you can license annually to perform your own linearizations with Piezography Pro inks or traditional Piezography K7/K6 inks.
New! Piezography Professional Edition software for Piezography Pro and K7/K6 inks.
Use Piezography Professional Edition software to re-profile your environment when something changes, or re-profile a particular batch of paper, or create a profile for a new paper that you find interesting.
Use curve tuning with our software to match your imagination, or to match your display, or to include a creative Photoshop curve intent inside of a QuadTone RIP curve.
Piezography Professional Edition offers endless possibilities for creative expression when paired with Piezography Pro inks.
Create your own autographic system.
Use Piezography Professional Edition with existing K7 and K6 curves to superlatize your output or create profiles for new media.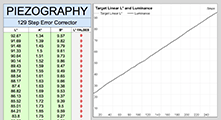 Welcome to a Community
Download and read our new Piezography Manual that shows you how to use these new tools. We built a private support forum for Piezography Professional Edition software Pro, K7, K6, and P2 users. Piezography Professional Edition is extensible. Your support (annual licensing fee) will keep our development front and center and allow us to continually provide you with masterful and knowledgeable product support, new master curves, and upgraded toolsets.
We are also offering a free Community Edition of published curve sets for those who prefer not to try their hand in the mystical nature of curve calibration, or who do not own or prefer not to invest in a spectrophotometer. But, we also include tools that allow you to use your eye or a scanner to make these linearizations.  You do not need to buy Piezography Professional Edition software to use the new Piezography Pro inks.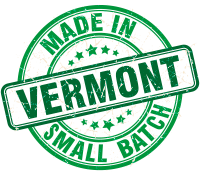 The new Piezography Pro ink is the heart and soul of Piezography Pro. It is the first ink that we have both spec'd and then batch formulated in our Vermont ink sampling lab. And we're going to try and keep producing it that way. Small batches will allow us to more readily develop new ink designs in the future. Piezography Pro is 100% Made in Vermont small batch goodness!
Piezography Pro is now available for the Epson SureColor P600, P800, P6000, P7000, P8000, P9000, R2880, R3000, 3800, 3880, 4800, 4880, 4900, 7800, 7880, 7890, 7900, 9800, 9880, 9890, and 9900 printers. According to Epson, SureColor printers are designed to "work only with Epson brand carts". USA and EU regions SureColor printers share the same chips. The same holds true for Asia region models requiring Asia region chips. USA P800 requires use of a decoder board or Chipless Solution firmware. InkjetMall begins selling P6000-P9000 carts Oct 2018.