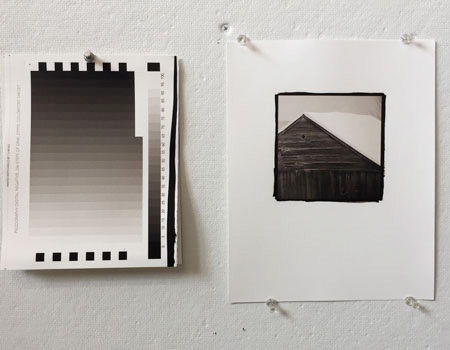 Deluxe PiezoDN Ink, cartridge, and flushing system for Epson 3800 with HD Ink
SKU: PIEZODN-SEL-3800-KITD
---
In addition to the inks and cartridges, you will need to purchase the PiezoDN software system. 
About PiezoDN ink sets
PiezoDN ink sets are designed for use with the optional PiezoDN software profiling system. PiezoDN ink sets use Photo Black shade 1, and shades 2, 3, 4, 5, 6 + Gloss Optimizer. If you have an eighth channel available, you can also install Shade 7 and do full-tilt Piezography printing with the same printer. If you have 9 or more ink slots, you can also install Matte Black shade 1 ink for black & white printing on matte papers in addition to glossy and negative printing. On the 1430 and 1500W printers which have only 6 slots, the ink set is limited to negatives. But, by purchasing additional ink cartridges, it is possible to replace the Photo Black with Matte Black for printing on matte paper - and then swap back to Photo Black for printing film. No glossy printing is available on 6 ink printers.
If you are considering a new ink set of making PiezoDN negatives -please look for a PiezoDN compatible ink set. Please do not consider Methodology 1 & 3 ink sets which use shades 2.5 and 4.5. They will have only limited support in PiezoDN moving forward.
Finest Quality Negatives in the World
Because PiezoDN is built upon the proven ink and curve technology of Piezography, the negatives it produces are capable of making thousands upon thousands of tonal transitions. This system truly matches the tonal breadth of noble-metal arts such as Platinum and Palladium printing.
Because PiezoDN is an inkjet printed negative, you can calibrate it perfectly for any given analogue process and print different negatives on the fly, something not done with more expensive LVT film burners.
PiezoDN is Darkroom v2
We started building PiezoDN only for Palladium and Platinum printing but quickly realized it was capable of so much more. We've built base-line curves for Gum, Cyanotype, Salt, Ziatype, and Silver and we aren't stopping there. Over the next few months and years we hope to build the baseline curves needed for Malde-Ware printout Platinum, gravure, and the list keeps growing! Vermont PhotoInkjet has produced highly pure Platinum and Palladium catalysts that are perfectly suited to the PiezoDN system. Look for these and other Alternative Process supplies here, including papers for hand coating, Pictorico OHP Ultra Premium film, and Kobayashi Japanese coating brushes.
.7 Point Text? Yep.
A long time ago we proved the resolution fidelity of Piezography by printing 1pt text (something not possible using normal epson ink even with today's newest pro printers). We've gone a step further with PiezoDN and printed all of Alice in Wonderland at 3.5×4.5 inches in READABLE .7pt text. Of course you need a loupe to see it. The negatives that PiezoDN produces are finer than the optical resolution of Platinum/Palladium or other hand-coated print-methods even when using single-point lights and vacuum easels. PiezoDN makes true contact-worthy negatives that rival or possibly surpass traditional photo negatives when using new-generation digital cameras such as the A7rII or medium-format digital backs.
When printed on silver paper, this system far-surpasses the leading digital silver printing services in both resolution, tonal fidelity, and the ability to print in your own darkroom on your paper of choice.
Calibrate In House
PiezoDN software comes packed with tools for calibrating (linearizing) your own digital negatives. Literally, you can get the same tonal separation in your DARKROOM that you can with Piezography-on-paper.
If Piezography is new to you and you wish to make digital negatives, you will need to download QuadTone RIP and QTR Print Tool (if on OS X). While you will not follow any of the instructions in the QTR manual and documentation, it is imperative that you follow the instructions in the Piezography manual. Piezography uses the QTR engine and a few of its tools. However, the media profiles for making negatives are NOT made with QTR Tools. Therefore, Piezography workflow is quite different from QTR workflow. The Piezography manual and a lot of vital information can be found here.
The following pictures were taken at Maine Media College Historical Process Lab

Roxanne Cottongame and Brenton Hamilton (Chair, Professional Certificate Program in Photography, Maine Media College) with a palladium print from the PiezoDN negative system




Walker Blackwell and an incredible Cyanotype from a PiezoDN digital negative at Maine Media.




These four prints from top left to bottom right are silver fiber print, salt print, cyanotype, palladium print. The image is by Alan Vlach. These were produced in a single day at Maine Media's Historical Process Lab using the new PiezoDN.



This is a preview of the recently viewed products by the user.
Once the user has seen at least one product this snippet will be visible.
Recently viewed Products
What's Included:
In this deluxe set you get the best possible start. You get 

two sets of refillable carts. 
One for the inks and one for PiezoFlush to clean out the color inks from your printer. 
You get nine 110ml bottles of Piezography inks in shades Matte Black shade 1, Photo Black shade 1, 2, 3, 4, 5, 6, 7 and GO. 
You get one 700ml bottle of PiezoFlush. 


You must purchase the PiezoDN software which is available here.
If you have not already licensed QuadTone RIP and QTR PrintTool, both are available for purchase directly at the quadtonerip.com website.
Compatibility:
PiezoDN is only compatible with Pictorico ULTRA Premium OHP film. No other film on the market has the capacity to hold as much ink as the PiezoDN ink set produces. Period.
Attributes:
| | |
| --- | --- |
| Printer Model | Stylus Pro 3800 |
| Printer Brand | Epson |
| Ink Type | Pigment |
| Product Type | Full Kits (everything) |
| Color Position or Shade | Full Set |
| Bottle Size | 110mL(s) |
| Brand | Piezography |
There are no alternative products.
There are no accessory products.