This is the latest 2017 design by InkjetMall and is manufactured exclusively for us. We designed this cartridge to be more rigid so it functions better in older or worn printers as well as it performs in new printers. This is your primary tool for repairing and maintaining Epson printers. It is less sensitive initially to printers that have been poorly maintained. These are designed for using PiezoFlush as your first defense in saving a poorly operating printer. Fix it rather than discard it!
This kit includes an additional black cartridge for use with Piezography Pro inks and a set of 8 refilling syringes. It is also labeled for use with color inks, Piezography K7, Piezography P2, Piezography Pro. This kit includes refilling syringes.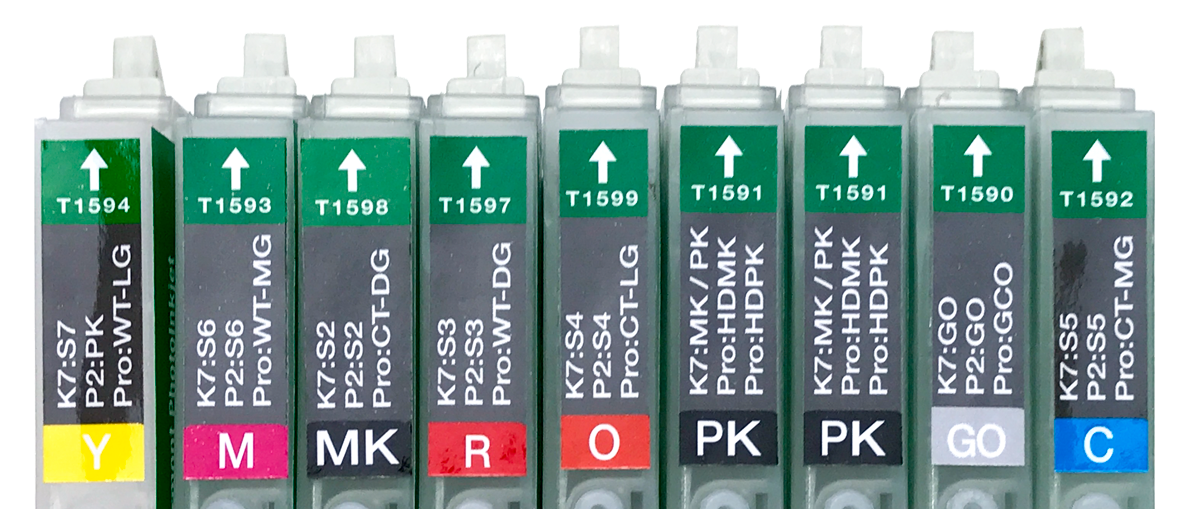 Refillable Cartridges are easy to refill. These carts can be refilled over and over again.

This version includes syringes and priming tips and includes a second PK cartridge for use with Piezography Pro inks.
There is a regular set of 8 cartridges with only one PK cartridge with syringes as RCS-R2000-SH-SET8 and without syringes as item sku RCS-R2000-SH-SET8NS.
You can use these empty ReUsable cartridges for PiezoFlush or to repair your printer. You can also use them to fill with ink from previously discarded "empty" Epson ink cartridges. Or you can fill them with the ink taken from Epson ink cartridges that read "empty" prematurely or malfuncition.
Ink cartridges have a clear plastic side so that you can see the ink inside.
Reusable top plugs for easy refilling.
Suitable for all types of ink, dye ink, pigment ink and etc.
"ARC" auto reset chips that can be reset when Epson Status monitor indicates that they are nearly empty.
Can also be reset with an optional chip resetter.
High Quality Manufactured under ISO9001.