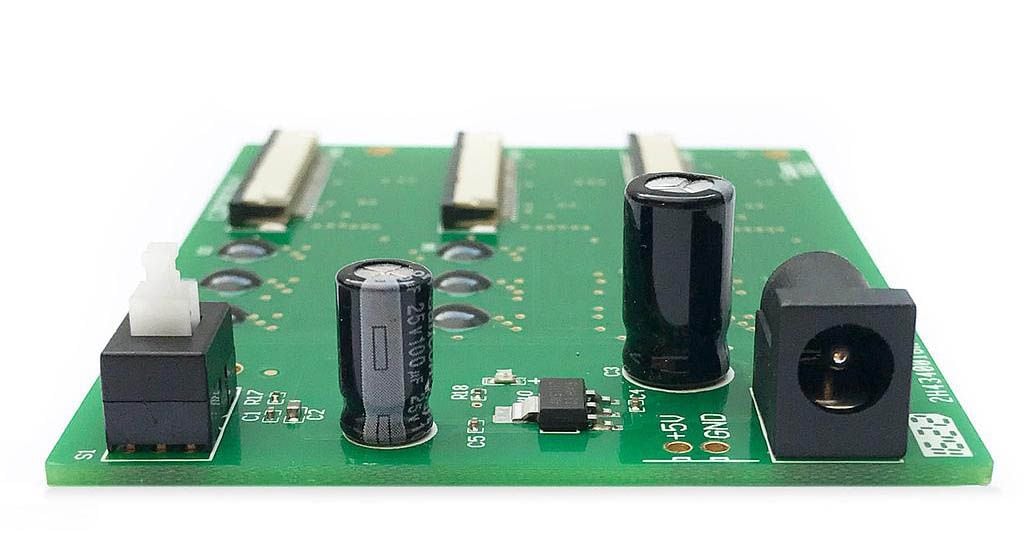 Decoder Board for Epson SureColor P800 printer
SKU: ACC-P800-DECODER
---
We believe that this decoder board may void your warranty, as Epson indicates in their warranty that the printer owner is not to modify the printer.

Finally, a stable solution for North America and EU Region SureColor P-800 printers!

The Problem:

Epson SureColor P800 printers that are sold in the North American region lock out customers from choosing their Brand of consumables by recognizing when non-Epson branded cartridges are installed. When non-Epson branded cartridges are installed the printer will fail to operate and may become damaged. To be fair to Epson, they have clearly indicated in their North American marketing that the P800 printer model is designed to "only operate with Epson brand cartridges". But, most Epson customers do not buy directly from Epson and the Epson retailers are not mentioning this requirement, even as Epson mentions it on their own website and brochures. Our latest version of this decoder board now works in EU Region SC-P800 printers.

The Solution:

We were hoping that a chips solution would eventually become available as it did with the 3800 and 3880. But, this does not seem possible with this printer model. The scheme that prevents using non-Epson branded cartridges is practically impossible to circumvent without literally getting around the circuit that prevents the use of non-Epson cartridges.

"Getting around the circuit" means that you will literally need to install an external circuit board that circumvents the Epson printer chip reading process. It replaces the printer's functions with its own functions that are resident on the external circuit board. This type of circuit board is called a "decoder board". The decoder board can be used in combination with InkjetMall versions of the Epson 3800 and 3880 refillable cartridges from 2011 and later.

Decoder boards

When installed, a decoder board bypasses the Epson chip reading functions. All of the reading and writing to chips as well as the resetting becomes a phantom operation that takes place on the decoder board. How you reset a "chip" is by pressing a button on the decoder board.

This decoder board is not that difficult to install. It involves disconnecting the ribbon cables from the Epson printer's main board, and connecting in their place the ribbon cables from the decoder board. And once in place it's not something you need to worry about again. It does what it is supposed to do. Initially, all of the cartridges will read 100% full. As any single cartridge empties and requires resetting, a button on the decoder board is depressed and all cartridges reset to 100% full. You'll need to pay attention to ink levels as a result of the resetting.

The reset button on the decoder board can only be used to reset cartridges 30 times. That is a lot of ink, but it is a limitation. For European P800 printers, there is no limit to the amount of resets. 

Also, installing the decoder board represents an alteration to your printer that will most likely void the warranty. It takes only 15 minutes to install and even less to de-install. Once it is removed and the Epson cables put back in place, the printer is restored to its normal functions.

We are pre-testing all of our decoder boards here so that we know that what we sell you works. But, we can not be responsible for your installation nor can we warranty the board itself nor any damage it might cause if you install it improperly.

We had been testing devices like this for more than a year. We've blown up a fair number of Epson printers on solutions which are not stable. We believe that the version of decoder board that we are selling is stable. Plus, our version allows use of our existing Epson 3800 and Epson 3880 refillable cartridges in P-800 printers. Our 3880 control chips were unique in allowing the use of fully depleted OEM chips. These same controller chipped carts can be used with the new decoder board and the OEM chips are not required.

Therefore, our decoder board offers a good upgrade path to our existing customers of 3800/3880 printers who want to save their inks and cartridges investment as they migrate to the new P800 printer.

At $395 this decoder board is not cheap. But, it can pay for itself within one or two fills of ink. More importantly, it will allow you to choose your own Brand of consumables and InkjetMall offers ink products that Epson does not.
This is a preview of the recently viewed products by the user.
Once the user has seen at least one product this snippet will be visible.
Recently viewed Products
What's Included:
You get one decoder for Epson SureColor P800 (North America and EU regional models only). This decoder board works with the InkjetMall Epson 3800 / 3880 refill cartridges which are exact same size as P800 cartridges. OEM chips are NOT required.

Compatibility:
This is compatible with Epson SureColor P800 printers sold in North America and Europe.

We believe that this decoder board may void your warranty, as Epson indicates in their warranty that the printer owner is not to modify the printer.
Attributes:
| | |
| --- | --- |
| Printer Model | SureColor P800 |
| Printer Brand | Epson |
| Product Type | Accessory |
| Brand | Vermont PhotoInkjet |